Top 10 Tips for Moving Safely During COVID-19
Even in the most normal circumstances, moving homes can be a daunting task, but the risk of contracting COVID-19 is now an additional strain, especially if you have vulnerable people in your household. Information about this pandemic is changing every day, and we all have concerns about how to protect ourselves and each other while moving. Whether you have hired professional movers or not, it is utmost important to consider a few additional actions to help support a safe move. Below are some useful tips intended to help you navigate this unchartered territory during the moving process.

Plan Ahead
With plenty of house moves resuming now, there is a significant demand for movers now. So, make sure you plan ahead by either booking moving services early or booking your house move provisionally. Also, start planning your move as soon as you are sure about moving to avoid any further delays. Sort your belongings and put aside all the items that are to be donated or sold once the lockdown restrictions have been lifted.
Selecting a Moving Company
Hiring reliable local or long distance movers (as per your need) will certainly help you relieve a bit of stress of moving amid the corona-virus pandemic. It is fairly easy to find a mover online that suits your needs, but there are a few important questions that you need to ask the moving company to ensure a healthy moving experience. The following questions will get you started as you screen your movers:
Is your company fully operational during the pandemic?
What health and safety procedures are you implementing?
What safety measures should I follow?
What steps do you take to safeguard your drivers and crew?
What do you do if your worker or client has been diagnosed with COVID-19?
Health and Safety of your family, as well as your movers, is the top priority. By getting answers to these questions, you will be able to gauge whether the moving company you are considering follows federal and local guidelines around social distancing and sanitization and can manage your move in a safe way.
Choosing Video Surveys
A significant step in reducing the spread of COVID-19 is avoiding in-person contact. The virtual survey provides an alternative to the conventional in-person home surveys that allows you to use video chat on your mobile device to walk an estimator remotely around your house and show them all your belongings you wish to move.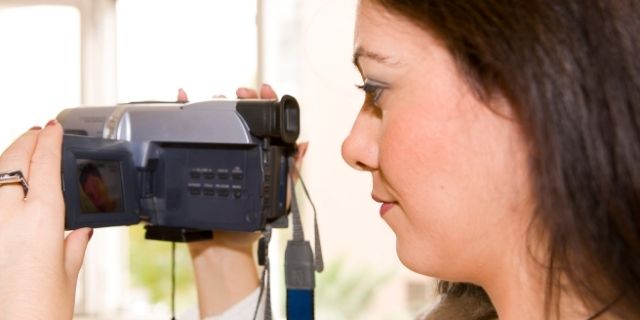 Make sure you show them everything including in insides of cabinets and closets that you wish to move. Keep a tape measure with you, in case the estimator asks you to measure anything for accuracy. Don't forget to explain all of your moving needs with the movers so that they can offer accurate
moving quotes
and you can get a clear idea about how much does it cost to move.
Consider Packing Most of the Things Yourself
Although this can be very difficult, packing some of the things yourself can save you the trouble of disinfecting when you unpack. Use a few
moving hacks and tips
to pack your personal items such as clothing, utensils, toiletries, bed linen, etc. yourself. Make sure not to seek out any used boxes, since coronavirus can stay on surfaces for some time, which includes cardboard and plastic boxes. Get packing materials and cartons from movers and ask them to drop them off a few days ahead of time, so you can properly sanitize them and then pack and seal them.
Maintain Social Distancing
The government-announced social distancing regulations recommends keeping at least a distance of 2 metres from people outside your household. So, make sure to follow this even during your move. Greet with a smile or prefer any other non-contact methods of greeting instead of a handshake. Refrain from helping the movers while packing, loading or unloading, let them do their job.
Practise Good Levels of Hygiene
When dealing with people outside your home, make sure you follow good standards of hygiene. Even if you wear disposable gloves, it's important to make sure you wash your hands regularly when you take them off. Also, provide a place for movers to wash their hands. Furthermore, limit the people in your home who will get in contact with the movers on moving day. This will help to guarantee the best possible levels of safety.
Wearing PPE
If you expect the moving crew to be in close touch with you, it is recommended to ensure that you have access to your own personal PPE. This means wearing masks and disposable gloves. Make sure to practice all the
CDC
recommended protocols which include wearing masks, avoid touching the face, regular hand washing reminders, regularly disinfecting surfaces and others to limit the spread of COVID-19.
Plan for your Pets & Kids Beforehand
If you have friends or family around, make arrangements for your pets, kids and even elderly with them on moving day. If this is not a choice for you, try to make sure that they have limited interaction with others.
What to Do if you Feel ill on the Moving Day
If you or another person in your home starts to feel unwell or begins to display any signs of coronavirus, it is important to stop your move and to ensure that they are self-isolated for the recommended period. Inform your moving company as early as possible to postpone your move and reschedule it to a more suitable date while upholding safety levels. Contemplate your situation, seek medical assistance before opting to move.
Get your New Home Disinfected Beforehand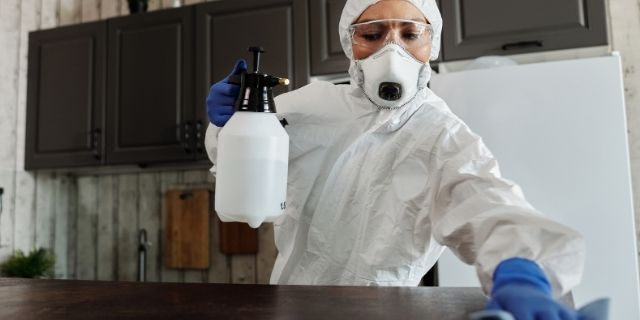 Before you arrive at your new house, make sure every room is cleaned and disinfected. As your movers unload your possessions, make sure to disinfect them. Dispose of all packaging supplies. Don't touch your boxes for a day after you move, if in case you do need to open them, make sure you wash your hands thoroughly every time you touch a box. After unpacking, wipe down and spray as many surfaces as you can like your tables, door handles, knobs, cupboard handles, kitchen counters etc.  Although it might not be possible to wipe everything, so, in the days following the move, ensure to wash your hands more frequently because the virus can live for some time on surfaces.
Let Moversfolder.com Make your Move Less Stress-Inducing
It is normal to feel a bit of anxiety during this situation, however, if you take the CDC's guidelines about the COVID-19 seriously, then it is possible to experience a safe and successful moving day. So, in case you do need to move during these uncertain times, let Moversfolder.com help you find trustworthy and competent movers and make your moving process safer and less stressful.
Stay Healthy!