5 Useful Tips about Local Moving During Coronavirus Pandemic
Covid-19 has affected everyone around the world. So, while it might be safer to remain at your home during this pandemic, sometimes holding off a move might not be possible. In such cases, the trick is to be careful and extra vigilant to plan and execute your move. The following tips will help you in moving locally during coronavirus while keeping you and your family safe.

1) Choose Professional Local Movers
Deciding whether you want to hire
reliable local movers
for your move might be a difficult decision amid the corona-virus pandemic, as you are probably worried about involving outsiders into your home. But a DIY move is not an easy task since it involves a lot of hard work and efforts on your part.  This is why you need to hire movers who adhere to
CDC
standards. So, while choosing the movers make sure to find out what precautions do they follow to prevent the spread of corona virus and how will they conduct your move in the safest way possible.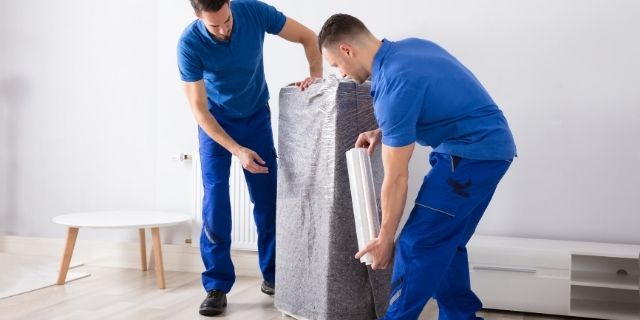 If you are unwilling to bring in movers inside your home, then one solution is to pack your belongings yourself and store them in the garage or front room and you take it from there. This way your local movers can carry your stuff from the garage and load them onto the moving truck and then later unload all your belongings into the garage or front room of your new home. You can then disinfect all your boxes and belongings in the garage and bring them into your house one by one. This way you will be able to minimize exposure to your new home by other people as much as possible.
2) Consider Using Storage Containers
Many moving companies are inclined to meet you halfway by offering a storage container solution. You will then have to load and pack the container yourself, and the movers will simply handle the relocation. This is the best option, as only you will be touching your belongings and you will have plenty of time to load and unload your stuff.
3) Get New Packing Materials and Boxes
While reusing borrowed packing materials and used moving boxes is one of the top ways to save money during a move, but if you want to stay safe while moving, then you should consider getting new packing materials and moving boxes.
Before you begin packing, make sure to clean and sanitize all the items. This way all your stuff will remain clean even after unpacking. Be prepared even while on the road.
4) Make Others Aware of Your Plans
Are you moving to a close community? Or perhaps a condo with indoor hallways to the front entry? In such cases, before moving you need to learn about the policies of your new place, notify your neighbous about your moving date so that they make necessary arrangements to keep safe distances.
5) Cost of Moving
Now that we know it is safe to consider
movers for hire
to conduct a move, let's have a look at the financial benefits of moving now. People are working from home and schools are closed, which means road conditions are perfect. And since local movers charge by the hour, your move should be finished faster, which means less money. Remember, to avoid any surprises on your moving bill, it is important to understand how much do local movers cost by explaining them all your needs and getting free moving quotes. Avoid in-home surveys by choosing a video home survey to show the moving estimator all your belongings and explain all your needs.
Find the Best Local Movers at Moversfolder.com
The key to a successful move amid COVID 19 is by understanding all the information about safeguarding yourself and following it. And moving with the best movers is safe, cheap and easy for you. So, get started with planning your move and find the best local movers with the most affordable deals at Moversfolder.com. Stay Safe, Stay Healthy and Happy Moving!