Free Moving Quotes:
1-866-288-3285
The Do's and Don'ts About Moving Animals
Your pets are your as prized possession as your other cherished assets. They being living creatures demand all sorts of care and affection. With science proving the high emotional quotient in pet animals, especially cats and dogs, it is quite evident that they are not unaffected by the change of location.

Here Goes the List of Do's and Don't When Moving with Pets
a. Inform the Veterinarian
Bring your prospective family relocation to the notice of the veterinary doctor whom you have entrusted the health check ups of your pet. Tell him/her clearly about the place, temperature and humidity conditions of the new place. Get some prescriptions which might be needed during travel or after moving. Also seek guidance on precautions and care tips at a new place.
After you have moved, inquire from your neighbor who is the best vet around. Arrange to transfer the earlier health and vaccine records of your pet with the new vet.
b. Move them Together
If you have two or more pets, it is not a good idea to part them as far as possible. They might behave abnormally if they do not find their partner/playmate during transportation or at the new home. Move them together especially if you are undertaking a
long-distance move
or moving cross country.
c. Drive them in your Vehicle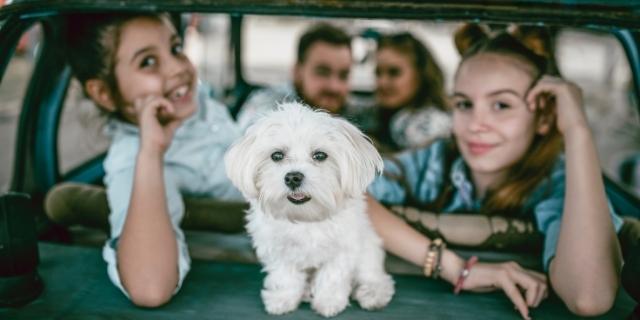 If you are moving within your city or
moving short-distance
(usually below hundred miles), it is better to move your pets in your own vehicle. You never know what happens to them in a rented vehicle. The pets might also throw tantrums if they find themselves in the company of complete strangers.
Make them familiar with the ride a few days before the actual move. Take them for smaller rides or just around your home so that the dog or cat gets used to the ride and does not end up 'confused' on the day of your actual move. Use the same pet carrier for the move which you do while taking your cat or dog to the vet. Your furry friend will not have some alien feeling.
d. Make a List of Essentials
Do make a list of the things your pets would need while moving. The list will include eatables, water, toys, litter box, pet loo, medications and any other things which keeps your pets busy. Carry these things along and keep them handy.
e. Carry the Registration Certificate
Keep a copy of the registration certificate of your pet(s) with you just in case you encounter some regulatory officers or traffic cops on the way. Also, the details must include the vaccine records. Besides, search online for pet keeping laws in the state you are moving to. Remember, there are varied regulations in different locations. Some communities even may not allow pets to be kept at homes. Update yourself on every detail before moving your pet to your new location.
f. Keep the Pets Comfortable while Moving
You never know what the animals will do if they find them too tightly packed up or tied. With you behind the wheels, it would be cruel to keep the poor animals uncomfortable and crying. Check the seat-belt which should not be like a noose for the little animals. It is better to put them in the pet carrier kept in the back of your car. A blanket may be used if required.
g. Have Journey Breaks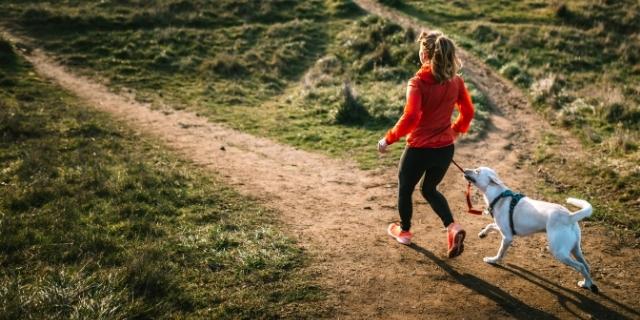 You and your pets have different tolerance powers. Do not drag them along for endless hours on the road. Have some stop overs if it is a long journey. Take them out with caution for obvious reasons. You may call it a pee break but this will also help you check if the pet is getting sick on the long journey.
h. Have a Walk-through before Actual Moving
This may be said to be particularly important when you have a dog and you are destined to move locally only. A visit to your next destination with your pet dog will help him acclimate to the atmosphere, scent of the new place beforehand. This can reduce the adjustment issues later.
i. Do Not Show them the Chaos
What if your feline friends do not speak your language? They see and feel what is going in front of them. They get scared, confused and anxious too. They may have their own interpretations and their own ways to react. So, try not to show them your confusion and the mess that gets usually created in the house on the moving day. One option is to leave them with a friend while you deal with the chaos at home. Or keep them in their carrier or room with the door shut. You can take them out when the household stuff gets neatly packed and loaded. Do not forget to leave their food with them. The same rule will apply when you unload and unpack at the new destination.
j. Resume the Routine Soon
The sooner you return the normal routine at your new home, the better it is for you and your four-legged friends. Do not change the eating timings and playing things, toys etc. after moving. Abrupt changes will only add up to their confusion.
k. Check if the New Home is Pet Safe
One of the crucial tasks when you move into a new home is to check if it is pet-safe. Check properly the grills, loose electrical cords, low rise balconies and front gate design. Your dog and cat may try to slip out in search of an old home.
l. Keep the Pet Identity Fool-Proof
Pay special attention to your pet's identity proofs. It may be a collar, tag or microchip. It is also advised to keep a photograph of your pet with you just in case it gets lost in the new place. Do not forget to make an address change in the microchip or caller.
m. Moving with Birds or Fish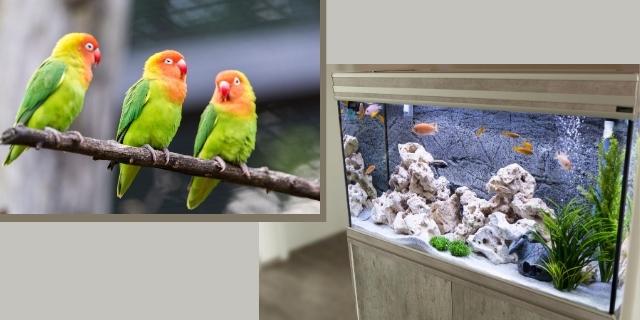 If you have birds or fish as pets, keeping them comfortable is equally important. Do not change the cage in case of birds and water container/aquarium in case of fish. Keep the anxieties of new locations to the minimum. They too must be moved in your personal vehicle preferably. If not possible, you can search for pet shippers. Ensure a good supply of food and water while moving.
Moving with pets must be accomplished with empathy and due care. You deserve compliments if you manage to move your pets without them freaking out. If your pets get as playful as they had been at your previous destination within a week of moving, it may be a sign they have accepted the change and adjusted to the new surroundings.
Check Out Related Moving Tips and Guides:
Moving With Cats Cross Country - Tips and Advice
Guide on How to Move a Wine Collection?
Moving Checklist for Your New Home