Free Moving Quotes:
1-866-288-3285
10 Important Tips for Moving to College
No matter whether you are moving to a college for the first time or you are returning after your holidays, the moving process is exciting but at the same time, it is stressful too. Fortunately, we are providing you with some important tips that will ease your moving process.

Moving to a college hostel room includes a long list of to-dos. Although every college has different rules and regulations for moving in and out. And there are multiple things that you can do to make your move smooth. The following 10 tips will ensure that your college room move goes on the right track.

1. Get a List of Essentials from College and Pack Accordingly
Before your college begins, you will get a set of lists from your college, that will have all details about stuff you need to carry. Along with that, the college should provide you with a list of things that are already present in your hostel room to prevent you from over-packing. Usually, the hostel rooms come with a bed, mattress, table, chair and a cupboard. Yet, college should send you a list of essentials that you must bring while moving like laundry essentials, bed-sheets, bathroom essentials more. So before you start packing, you make sure you check out the list given by the college and then pack accordingly.
2. Call your Roommate to Discuss who will Bring What
If you are moving to a college room for the first time, you will probably have a contact number of your roommate. You can also request your college to provide you with all information about your roommate. Once you have detailed information about your partner, you can discuss with him about what to bring and what not to. This will lighten your load and will save you from the extra burden. It will make your moving experience stress free and easier. For example, if you are getting a doormat, you must inform your roommate about the same, so that he doesn't get the same.
3. Read your College's Hostel's Guidelines
Before you move, make sure you read all guidelines provided by your college. Your college will give you plenty of information about how to move into a hostel room, and what to expect on the first day of your college. The details may include all important information like where you need to go on the first move-in day, how to register yourself into a hostel room and many more.
4. Get a Toolkit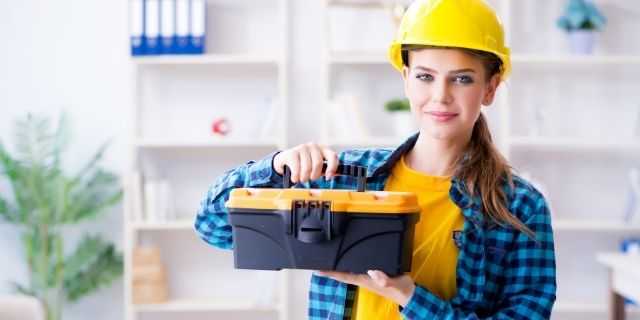 When you move to a new college room, you would probably require a toolkit to fix screws and build things like hanging curtains, placing wall clocks and so on. The tool kit you will get in the beginning will help you throughout your school year. So before you move, get a small and handy tool kit that you can keep in your room easily. Make sure your tool kit contains all basic tools and screwdrivers.
5. Dress Appropriately
Moving day is not meant for tight jeans, high heels or short dresses. While moving, you need to walk up and down many stairs, carrying heavy boxes and assembling your hostel room's items, and so you would want to be comfortable while doing them. So it is always better to wear comfortable clothes on the move during the day. You must wear shoes with lightweight clothes to increase your efficiency and level of comfort.
6. Have Family Members or Friend to Help you on Moving Day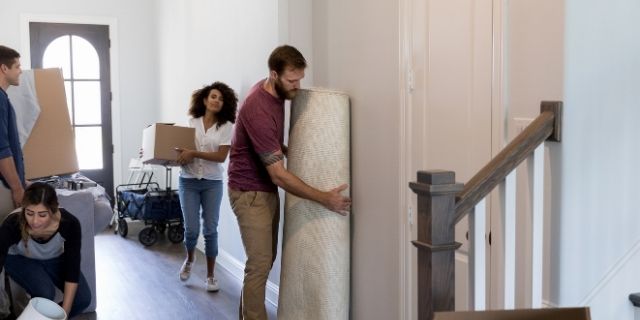 Never move to college all alone. It is advisable to bring a friend or a family member on a moving day. You would need to carry heavy boxes up and downstairs, so having an extra hand of your family member or friend will be useful. Getting the help of your loved ones will ease your process, as they will help you in assembling your furniture, unpacking the boxes and setting up everything. In case your family member is busy on moving day, then you must talk to your friends in advance to make sure arrangements are made accordingly and should accompany you while moving to college.
7. Utilize Laundry Bags, Bins and Vacuum Bags
When you purchase cardboard boxes, you need to assemble them and then pack and it will require your time and effort, plus it is going to be for one-time use only. Instead, you must look for bins, laundry bags and vacuum bags as storage options.
8. Ship what you Cannot Fit in a Car
You must know that you should not bring everything on moving day. Your belongings like TV, extra pillows and other few things that you won't require on the first day can be moved later. All of the left out items may take a few weeks to reach you, but it is fine, those things are not needed immediately as you move.
9. Consider Self Storage for Seasonal Items
Are you moving far from your home? Then you probably cannot visit your home frequently. If you do not have free space nearby to keep your seasonal items, then prefer to
rent a storage facility
near your college. Storage units will provide your enough space where you can store and retrieve the items as per your need.
10. Take Time to Meet your Roommates
In the middle of a hectic moving process, it is normal that you forget about your new roommates, especially when you are busy saying bye to your parents. While this is not a good time to have long conversations with your parents, it is a good time to introduce yourself to your roommates and hall-mates.
Find More Useful and Cost Saving Moving Tips Here!
Moving to a college is a challenging part of your life as you are going to leave your house and your parents for your career. But you can make your move easier if you follow the
moving tips
provided by Moversfolder.com, It is a right platform that will guide you best on how to make your move easier.
Learn more about
cheap moving tips for college students
that will give you peace of mind when moving and read
top 10 tips for moving safely during COVID-19
informative article tips to make the process less stressful.