How to Pack Jewelry for Moving
What is in your jewelry box? No matter whether the jewelry pieces you have are gifted by your loved ones or they are costumed one's for your favorite outfits, you want to make sure they reach safely to your new destination while moving. We all know moving is a stressful task, especially when it comes to valuables. You have carefully chosen them and brought them from your hard-earned money, you certainly don't want broken necklaces, bracelets, tangled chains or missing earrings after your move.

So, whether you are moving locally or moving long distance, you must pack your jewelry properly to ensure they stay intact when they reach your new home. With this guide, get to know a few tips that you must follow while preparing your jewelry for transportation and the moving process.

Here Are Some 8 Ways To Pack Your Jewelry:
1. Straws
You want to save your necklaces from being tangled up? The best way to prevent that is to use straws. All you need to do is slip the chain into the straw till the other corner and then clip it at the other side. With this simple trick, you can say goodbye to tangles. You can easily put multiple necklaces in one straw but you need to be careful too as you may end up with tangled chains if you put more than 3-4 chains in one straw.
2. Toilet Paper Roll
Like straws, you can use toilet paper rolls to move your bracelets and necklaces. Just roll it over the roll and clasp it on the outside. This is a great way if you want to pack several pieces together.
3. Egg Cartons
Another great way to pack your jewelry is by using egg cartons. It works great for moving necklaces and gives you completely tangle-free necklaces. You have to string the sides of the necklaces through the holes present on the top of egg cartons and then leave the rest of necklaces inside the carton. Now without the fear of chains getting tangled, you can put multiple necklaces in one carton.
4. Plastic Kitchen Wrap
If your jewelry is organized in a tray or a single bowl, then all you need to do is stretch some kitchen wrap across the tray or a bowl and pack them. Once you reach your new destination, unpack your jewelry tray or bowl simply by removing the kitchen wrap and then set it wherever you want.
5. Buttons
The best way to pack earrings is by using buttons. It is the most secure and cheapest way for hanging your earrings. All you have to do is stick the earring to the buttonhole and then place the back of the earring on the other side of the button. Buttons are a perfect way to pack your earrings and an easy way.
6. Business Cards
Business cards are a great way to pack your jewelry. To use them to pack your necklaces, just create a hole in the business card and loop your necklace all over the card. And to pack your earrings, you can poke two holes in the card and you can fit multiple earrings in one card. It is one of the cost-effective ways to pack your necklaces and earrings.
7. Sandwich bags
Once you have looped your jewelry into business cards or buttons or any other way, you would want to keep them organized. This is where sandwich bags will come in handy. Get a sandwich bag and organize your jewelry into it, it will sort out your pieces and will keep your items organized. Do not forget to label your sandwich bag once you have kept everything into it.
8. Jewelry Box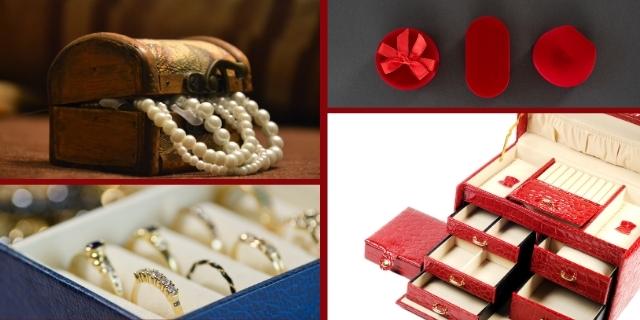 To be on the safer side, it is wise to use a jewelry box to pack and move your jewelry. You can easily put your sandwich bags in the jewelry box. Get a small jewelry box, which is a convenient way to move your jewelry.
Got Plenty of Jewelry and Other Valuables To Move?
The above tips will help you in packing your jewelry securely and moving them, but you can't beat
professional movers
as they specialize in packing and handling these very things. Find the best movers around you with the help of Moversfolder.com wherein you can find a huge database of reliable, licensed and insured movers whom you can trust to handle your move.
Check Out Related Moving Tips and Guides:
What Should I Pack First When Moving?
How to Unpack and Organize After Moving
How to Pack & Hire Movers When Managing Last-Minute Move?
20 Amazing Tips When Packing Your Belongings for Storage