Free Moving Quotes:
1-866-288-3285
How to Keep Your Calm During a Move?
When you are bound to move, keep it in mind that life will have to be resettled. There will be a hundred things that will jump in just as you leave your native place and drive off to the new one. Apprehensions and anxieties about the new neighborhood, workplace and unknown community will tend to unsettle you. Then will come selecting school and coordinating with the administrators. Making changes in documents will soon follow. Then there comes the constant phobia about how friendly the new neighborhood would be. Will the kids be able to adjust easily ? We have tried to cover all aspects of relocation in different sections at Moversfolder.com. Please visit the specific sections as and when needed.

The first thing to be kept in mind is to realize that all the above concerns are integral to relocation, and the first tip is to not take them to heart. Here a few easy to follow suggestions which will help you stay calm and composed during your move. Please also refer to our related sections like How Do you Organize A Long-Distance Move for more insights.

Plan Early to Avoid Last Minute Hassles
You get tense when things don't seem to be falling in place. Remember that things take time. So, there is no alternative to advance and timely planning which is a must for making your job smooth and keeping you stress free.
When a move is indispensable and the date/time has been finalized, start planning well in advance. Visit our section on
How Far in Advance Should you Plan A Move
? How much prior depends on where you intend to move. For a local move, a fortnight may be enough but for a long - distance move, you certainly need to plan at least a couple of months before. The advance planning is further significant when you need to move across the state boundaries or even abroad. Since a large number of people in the United States are frequently moving interstate due to personal reasons or job obligations, there has been a thorough work up on interstate relocations. In any case, one must plan at least three months in advance if bound to move across the state boundaries.
Get Organized and Avoid Piling Up Things
Organization is the key to an efficient move. Never underestimate the significance of a thorough organizing. To err is human is a popular adage. We are prone to forgetting things which may prove to be big lapses. So, it is always advisable to get organized.
One may organize his/her move through the following ways:
Make an inventory of your household stuff
Make a moving calendar to mark date wise progress
Make a to-do list
Get moving company quotes online to check the best suitable options
Disorganized things like undone tasks and clutter tend to go to your head and are a potential stress trigger.
Do not feel and Act Alone, Let the Family Chip In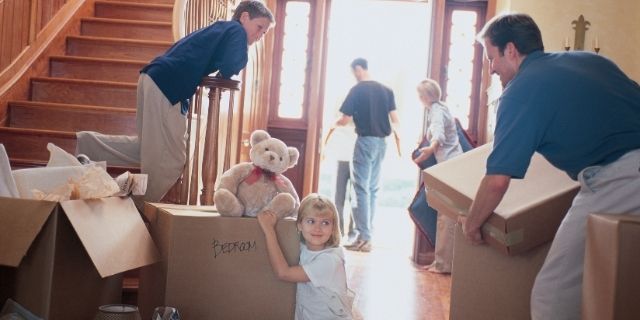 Do not undertake the efforts all by yourself. Moving is not a child's play and you won't be able to remember and pack all the stuff. You have limitations and need opinions and suggestions of others. Involve your family and friends in the job. Let all join the efforts. You will be left wondering at how skillful your kin are. Besides taking the load off your shoulders, the sharing will help you stay less burdened and hence tension free. Let there be a policy of 'division of labors' where every family member is expected to share some responsibility compulsorily. For example, let the children pack their toys and books.
Focus on the Positive Aspects of Move
Moving may be a tedious exercise but there are many exciting facts associated with it too. Think and focus on the positive sides to keep yourself motivated and cheerful.
As for example, concentrate on the following positives of moving to new location:
It is a lifetime opportunity to get into a new culture.
It is a time to make new friends.
There may be more promising work prospects at the new place.
It is a chance to start life afresh with a new perspective.
The previous experience will help you know which mistakes to avoid. The move is an ideal way to leave old mistakes behind and not to repeat at the new place.
Take Time to Relax and Unwind During Moving Preparations
It is very important to keep your vibrancy and cheerfulness intact while you have started to pack or do moving related preparations. Spare some minutes to have a walk, indulge in your favorite hobby (reading, cooking, just anything) or talk the things out. This helps to unwind and relax. Such steps will help you stay balanced, chilled and motivated. Do not let yourself be dominated by the anxieties most of which are unfounded. If you are packing and making arrangements during the day time, go cycling or swimming for a while in the evening to shed off the day's mental burden.
Speak the Things Out to Frequent Movers
While you are out to move in a while, do not undervalue the opinion of those who have recently moved or are frequent movers. There will be some wonderful tips tumbling out from them which will take your fears away. The experienced persons will guide you to some hassle-free moving techniques and will tell you certain precautions you should take. These hearty talks will help alleviate your stress much of which is just phobia.
Plan things which were not Possible at the Old Place
There might be a lot of things which you could not do at the old location due to locational, personal, space or financial reasons. Take the new location to be a fresh opportunity to pursue your unfilled passions and incomplete targets. They might be a kitchen garden which could not be possible before due to space constraints, a gym membership which you could not spare time for or keeping cats as pets at the new home. A plan to do something which pleases your heart and soul will keep you cheerful while planning a move.
Keep your Move Cost Efficient
Moving pokes a hole in the pocket. That is true, especially for the
long-distance move
. But there are ways to save money on a move. There are several articles dedicated to
cost-effective moving tips
on Moversfolder.com which can be accessed easily to know the best suited cost-efficient move for you. Since cost is one of the major factors that trigger stress before a move, so the expenses must be planned wisely.
Here is a Quick Look at Some Key Points:
Choose your movers wisely after getting quotes from at least three four moving companies.
Pare down your stuff and discard or donate the unusable things. Move with minimum possible belongings.
Volunteer to help your movers and do tasks like packing and labeling by yourself.
Book your movers well in advance to avoid increased costs at the last minute.
Such money saving efforts will save a lot of your hard-earned money and will eventually help you stay calm and relaxed.
Update your documentation timely.
When you change places, you need to change addresses at several documents like insurance policy and telephone company. Inform the concerned offices in advance for timely processing the changes. The delay can create unnecessary stress later which tends to get to the head. So, do the needful documentation at least a month in advance to stay stress-free.
Remember, people may project moving and relocation as a nerve-racking thing, but it can be made as pleasant and turned fruitful with sensible planning and sheer optimism. It is up to you what you choose.