How Do You Move Furniture Cheaply?
Furniture pieces are the largest and heaviest items in every household and moving them involves disassembling, lifting and loading these super heavy pieces onto the moving truck which certainly can't be managed by one person. This is why it is advisable to rely on experienced helpers either in the form of reliable muscular friends or professional furniture movers. So, here are a few important tips on how to move your furniture cheaply along with the various modes of moving available to you.

1. Take Only The Pieces Important To You
Furniture pieces are heavy and so they greatly contribute to the weight of your move. Since your moving cost depends on the total weight of your belongings, especially in case of long distance moves, then it is wise to take only the furniture pieces that are in good condition to move and that you really need in your new home.  For example, if you only move one or two pieces of furniture then it may be easier to sell the item and buy it again at the destination, however, if the item is expensive or holds sentimental value then you can also check with your parcel service and use it to ship this item. There are many such
unusual modes of moving
which you can consider for small moves.
2. Sell The Furniture Items You Don't Need
The cheapest way to move furniture is to not ship them at all. So if you have a fledgeling moving budget then it's wise to think about selling some of these furniture items online or by holding a garage sale.
Modes Of Moving Furniture
i) Self-moving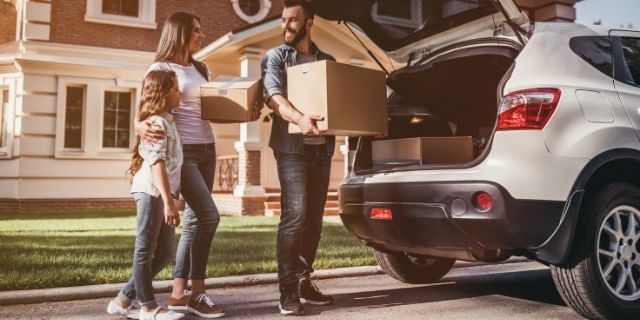 If you are moving locally with only a few pieces of furniture and have muscular friends who can help you in loading and unloading your furniture then you can certainly consider a DIY move by renting a moving truck. However, if you are moving long distance or have an entire home full of furniture pieces, then it's important that you hire professional moving services.
ii) Moving Containers
Every Move does not necessarily involve packing up an entire house. In some cases, you might only require to move a few valuable pieces of furniture along with a few boxes. In such cases, you can consider packing up a moving container yourself which the company will then move to your new home no matter whether it is to another state or across the country. This type of move is cheap and you can be sure that your furniture is going to remain safe and secure during the transit. However, it is important that you load and secure the container properly by using rope or ratchet straps to tie everything down and to prevent your furniture from moving to during the transit.  With this type of moving, you will require the help of your friends to load and unload the container.
iii) Find Cheap Furniture Movers
DIY moves are challenging and there is always a probability of damaging your furniture or house along with the risk of hurting yourself. This is why the cheapest way to move furniture is to hire affordable furniture movers. Now if you're wondering
how much does it cost to move
furniture locally or long distance then know that not every furniture moving company will charge you the same amount of money for packing and moving your furniture. This is why it is important to
get moving quotes
from multiple companies after an in an in-home survey. These surveys are important because furniture shipping is not as straightforward as you think. For example, if you have antique furniture then moving them might require highly trained professionals which would mean that your move will be considered as a special move and hence charged differently.
Once you get all moving companies quotes in hand make sure to compare them thoroughly on the basis of the rates offered and the reputation of the company. Make sure to always research the moving company by visiting
BBB
and by cross-checking their licence details at
FMCSA
. After all, they will be handling your expensive furniture items so make sure to do extensive research before you hire the best furniture movers for your move.
Find the Best Furniture Moving Companies Here!
Whether you are moving locally on long distance, have an entire home full of furniture pieces or only one room worth of furniture,  you can find the best furniture movers for all your moving needs at Moversfolder.com, the best part is all the moving companies in Moversfolder's network are licenced and insured so you can completely trust them and benefit from offered deals.