15 Ways About How Unpacking Can be Made Delightful
When you have landed at your next home, you are faced with the final challenge – unpacking. It will be after due unpacking only that you will see life returning on a smoother track. Just like all things related to moving, an organized unpacking is also an art.

Here is an effort to unfold some essentials to be kept in mind when you have to unpack your household belongings and also certain tips to make the unpacking easy as well as delightful.

1. Do Not Ignore Planning Beforehand
Take our words, You should not underrate the importance of unpacking from the very start. Always pack with the thought of unpacking in mind. In other words, as you go packing, do think you would have to unpack it too. Like we stated the importance of an organized packing in the article on packing tips (please refer to our articles
What should I pack first when moving
and
Top seven packing mistakes when moving
). Please remember that an organized packing has a lot of say in ensuring a hassle-free unpacking later. Therefore, stick to the following rules:
(i) Pack Room Wise
Let the things go in the boxes room wise right from the start so that you are not shuffling here and there as you unpack later. All boxes should be named like 'kitchen', 'kids' room' etc. You will spare yourself the torment of rummaging through all boxes for locating an item belonging to a particular room.
(ii) Label with Names or Colors Coding
Make sure all boxes display what is inside or, at least, what room stuff inside. For example, the box labelled 'Bedroom', should have linen, bed sheets and not kitchen knives. Similarly, the box flashing the tag 'books' should not be having toothbrushes in it. Color coding is a cool option too. Let the red box belong to the drawing room and blue one to the bedroom. This would be a bliss as you unpack. [Suggested Article Reading:
What to Write on Moving Boxes?
]
(iii) Pictures and Videos of Detachable Stuff
If you are dismantling your bed frames, disassembling your computer networks in such a way that it would be hard to assemble them at the new place, it is wise to click images or make disassembling /dismantling videos. It will help you in reassembling later. Do not forget to secure nuts, bolts and wires etc. in some safe and duly labelled enclosure.
2. See if All your Stuff has Arrived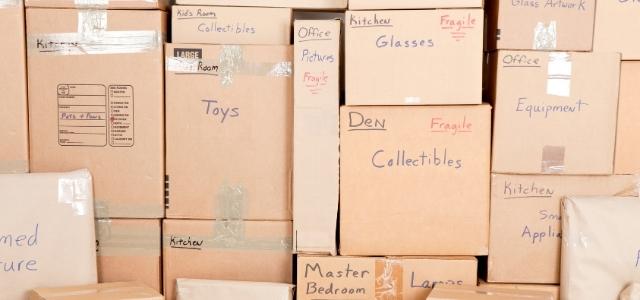 Before you decide to unpack after landing at your new home, have a look at all the stuff to ascertain if everything has safely arrived. You should have counting of your boxes and better if you clicked pictures in your mobile phone. Count the boxes and check thoroughly. A relaxation on this count is necessary before proceeding for a stress-free unpacking.
3. Go for a Brief Cleanliness Drive Beforehand
If you are lucky to find the new home spic and span, there is nothing like that. But, if the things are not that welcoming, summon your energies a bit and encourage your family for a quick cleanliness drive. It will be super easy to clean the rooms when empty. Dust the corners which will be hidden for long after the bedding and sofas have been set.
4. Let the Boxes Land in Respective Rooms
Do not make your job even more confusing by throwing all the boxes and cartons in one big living room. Let the sorting begin right from the first step. Ask the movers to put the boxes as per the rooms labelled on them. The box bearing the name 'washroom' should be kept outside the washroom, the box with the name 'Kids room' must be transported to the kids' room. This will cut the clutter instantly and your anticipated anxiety to half.
5. See if you are Perky Enough to Unpack
It is quite natural to be exhausted after a move and travel particularly if it had been a
long-distance move
. As you stand facing the laborious unpacking job just ahead, see if you are energetic enough to take it up. If not, put it off for tomorrow. Allow yourself and your family a much-needed break, order food online and ensure all of you get a good night's sleep, even if it means sleeping on mattresses spread on the floor. You will be able to do the unpacking more efficiently when you are freshened up and cheerful the very next morning. You can learn more with our Tip -
Guide To Unpack After The Move
6. Let the Essentials Come Out First
It is sensible for obvious reasons to let the essential items like basic kitchen things and toiletries come out of boxes first. You and your family (especially the kids and the elderly) will thank you for this. Place these things at their appropriate place. Connect the major kitchen appliances like microwave, cooking stove and refrigerator etc. Your family should be able to cook some easy things, if needed to, on the very first evening. Similarly, there must not be any issue with using the washrooms either. Let the soaps, personal hygiene things and toilet paper rolls go to their place without delay.
7. Take Out the Wall to Wall Carpet if Having One
If you are to lay a wall to wall carpet or any large carpet in the room, the convenient time is now when the room is empty. But make it a point not to step on it with dirty feet or shoes. Wear shoe wraps and ask your movers to do the same. Roll out the carpet and straighten it. If needed, clean it a bit before resting larger furniture like sofa and centre table on it.
8. Start With Large Furniture Pieces
Start setting the large furniture items first for two reasons. First, you will have ample and empty space all around like a large blank canvas. You will have, thus, full liberty and convenience to move and set your sofas, beds and large cabinets. Otherwise, it is cumbersome to move such bulky pieces in an already decked up room. Secondly, setting large pieces at appropriate places or corners will clear the central space immediately.
Do not forget to place some soft stuff like blanket, floor covers, cardboard etc. on the floors before moving large furniture. Make use of dollies and wheeled devices if accessible. You will feel the pinch a lot if your floor gets an injury mark on the very first day of your move.
9. Set Up the Bedrooms Next
You need to focus on the bed rooms now. Lay out the bedding and sheets and whatever you use for proper and relaxed resting at night. Pay special attention to the bedding of the elderly and the children as they might not be able to do it on their own.
10. Stuff the Box Beds and Cabinets
After you have moved the bed frames to their place, it is time to look out for boxes which contain the stuff meant to be stuffed in box beds. Let it go there to de-clutter the room even more.
11. Let In-built Cupboards have their Fill
With large things gradually getting to their places, turn to the in-built cupboards and wardrobes. There is no need to, nor will you be able to, set the clothes to perfect assorted order in the very first unpacking attempt. Push in the boxes containing clothes meant for these cupboards. (You can organize the clothes in the days to come).  This will ensure very less boxes lying on the floor now.
12. Unpack your Computer and Job-Related Things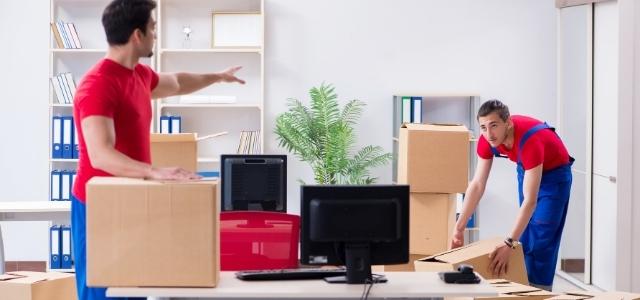 By the time you are done with unpacking voluminous items, it's also time to unpack your computer and office related paraphernalia. Take out the disassembling videos and images if needed and connect your system at a place you would like to. With work from home culture upon us during the pandemic times, you should ensure timely networking set up for resuming your work as quickly as possible.
13. Do Not Keep the Empty Boxes Lying In Front of You
Even if you have unpacked some major stuff and moved large furniture to their allocated corners, a sea of empty boxes lying in the rooms will be still perturbing enough to drive you crazy. You should not have to wade through this array of haphazard boxes. Think out of the box. The children will be most delighted to take them to the back of the home, jump over them and break the cardboard boxes into sheets. Let the children do it for their fun and to your relief. (There should not be any sharp things left in the boxes).
14. Unpack Off Season items in the Last
You may put off unpacking off season items (like winter clothes if moving in summer) till the next season. There is no harm if such stuff is kept in the boxes as such which must be stashed in the closets. Apart from off season items, you may delay unpacking similar items which will not be used for a few days or weeks. Such things may be moved to the store room and the space in the living rooms be cleared.
15. Keep A Tossing Box Outside
Unpacking will also tell you of some items which are not usable at your new home. There is no point in adjusting them forcibly at your new abode. Keep a tossing box outside and toss the useless stuff in it. It is better to keep your new place as decluttered as possible.
Well, these steps are not comprehensive and may vary with the size of the home and the type of the stuff moved in. The motive is to give you an idea that the key to a delightful unpacking lies in often  keeping your calm, respecting your energy levels and doing it in an organized and creative manner. And yes, involving your family. Through some focussed and sensible efforts, every aspect of moving can be turned less wearisome and more delightful. For more sprightly suggestions that help you sail through your moving related needs effortlessly, stay connected to Moversfolder.com.
A Few More Related Packing Tips for You:
Practical Packing Hacks for Easy Moving
How to Unpack and Organize After Moving
20 Amazing Tips When Packing Your Belongings for Storage