The Ultimate Moving Guide to Vermont
Introduction to Vermont,
Vermont is known for its open-mindedness, peaceful living, outdoor recreation, and vibrant small towns. It's also a charming place for artists, perhaps due to its beautiful scenery and a more relaxed lifestyle. The people of Vermont are very nice folks who love the elegance and simplicity of their state. Vermont's most preferred cities include South Burlington, Charlotte, Jericho, Montpelier, Shelburne, Cornwall, Middlebury, and Norwich. Considering the insanely gorgeous views, the covered bridges, the festivals, the proximity to Ben & Jerry's H.Q., and the dog chapel, if you are planning to move to the Green Mountain state, then you've got plenty to look forward to.
Why Move to Vermont With Moversfolder.com?
Moversfolder.com  is an online moving platform that understands that moving is difficult and thus acts as a bridge between the movers and the consumers. With the help of Moversfolder.com, you can reap the benefits of finding the best moving services at a reasonable cost, as this platform allows you to look at multiple movers, their services, prices and even reviews so that you can make a sound decision. With Moversfolder.com, get the work done of finding reliable movers for your relocation in no time without any barriers!
Take the first step towards your move to Vermont state with Moversfolder.com. Simply fill out a simple quote request form with some basic details about your move, like your date of move, zip codes of locations and size of the move, etc, and we'll get you in contact with the best moving companies near you. Compare these free moving quotes on the basis of prices, services offered and find your ideal mover and experience a stress-free move. With potential savings of up to 40% on the average moving costs, you can make the right choice with help of our helpful tip to find the
cheapest way to move across the country
.
Reasons to Move to Vermont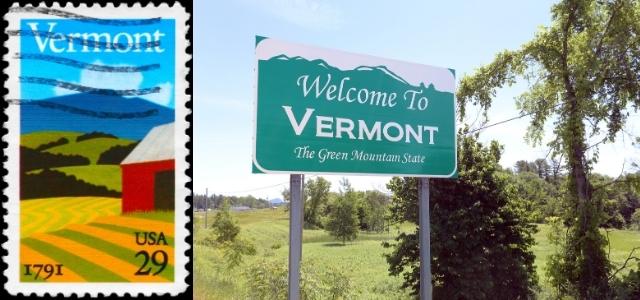 Here are the following reasons that you should consider before moving to Vermont.
1. Breathtaking Landscapes
Vermont resembles the most delightful portrait of a four-season scene that you've not seen at any point, complete with forested mountains and whirling slopes.
2. Near Canada
With Montreal city just under two hours away via vehicle, you can undoubtedly enjoy road trips and get-aways to the Great White North.
3. Healthiest State
Vermont has indeed been named the country's healthiest state by the United Health Foundation, multiple times in succession!
4. Snow Exercises Aplenty
If you are a bold individual and love snow exercises, then this state is ideal for you! Local people and guests alike appreciate first-rate skiing and snowboarding at places like Sugarbush Resort.
5. A Fundamental Way to Deal with Life
Without boards and houses loaded up with gardens, Vermont has an enchanting and conventional New England vibe that its residents are pleased to protect.
6. Spacious Surroundings
The state has less than 630,000 residents. The absence of big crowds means less clogging and more room for yourself. And you can enjoy jaw-dropping scenery in peace without throngs of people all over it.
Vermont Driver's License and Registration
If you are planning to move to Vermont, you need to assign your out-of-state driver's license as a legal obligation. The period provided is 60 days to obtain a V.T. driver's license after establishing your residency in the state.
A similar requirement has been required for your out-of-the-state vehicle registration. After getting your driver's license, you need to register your vehicle within 60 days of
moving to a new state
. New residents have 15 days to have the car investigated by a Vermont Licensed Inspection Station. After that, you will get issued a new V.T. vehicle plates.
The Affordable Cost of Living in Vermont
It is a preferable decision to purchase over rent in Vermont. The average home loan is $1,233, while the average month to month lease is $1,612. Another notion is the Remote Worker Grant Program, where individuals are offered a sum of about $10,000 over two years to move to the Green Mountain State, given that they are employed full-time by a business outside of Vermont.
Coolest Attractions in Vermont
Vermont is known for its jaw-dropping attractions, landmarks, and exciting places to explore. Some of them are:
The Penguin Plunge
It's a viral fundraising event for Vermont's Special Olympics organization. A bunch of adventurers and communities who've lost a chance jump into Vermont's cold waters. You can witness this thrilling experience in Vermont.
Vermont Maple Festival
If you are a maple syrup lover, then this festival is for you! This three-day annual event takes place in St. Albans in late spring. There are craft shows, exhibits, a parade, and what kind of festival would be complete without royalty. Yes, they even crown a Maple King and Queen.
Magic Hat Mardi Gras
Held in Burlington annually, this is Vermont's version of Mardi Gras. There's a parade with floats, performances, food, and of course, beads.
Stowe Winter Carnival
Each January, Stowe's town hosts its annual carnival of ice and snow. It features ice carving competitions, sporting events, "Snowgolf" and "Snow Volleyball" tournaments, events for kids, and more. Just be sure to participate in this fantastic carnival.
Ben & Jerry's Tour
Their delicious ice cream and unique flavours are fabulous. If you're a fan, you should check out the factory tour in Waterbury.
Weather and Natural Disasters in Vermont
Vermont has a humid climate. It experiences four different seasons, snowy winters, muddy springs, warm & humid summers, and colourful autumns. As for natural calamities, the state has not escaped from them and experiences floods, winter storms, landslides, etc.
What are the Best Places to Move to Vermont?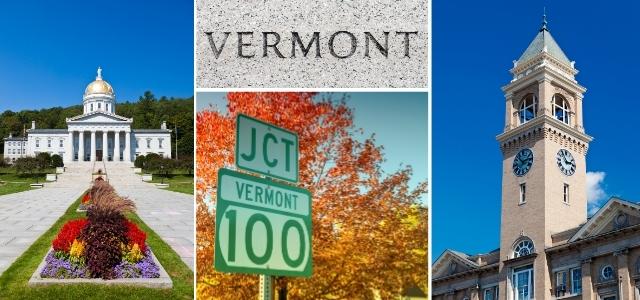 South Burlington
The first city on our list is South Burlington, where Ben & Jerry's ice cream is also located. The local food scene is impressive in South Burlington. Public transportation is comfortable, and the town's healthcare is efficient and unique. It is surrounded by greenery and trees, and this city has no shortage of fun adventures like hiking trails and scenic routes. It has Advanced Welding Institute and O'Brien's Aveda Institute, which are perfect for youngsters and families.
Charlotte
The second city on our list of best places to live in Vermont is Charlotte, situated near Champlain Lake's shorelines. It is also home to Mount Philo, perfect for an excellent adventure weekend getaway. The city also offers The University of Vermont and Champlain University, a short drive away from Burlington's town. You can also have access to New York by a ferry on Champlain Lake.
Jericho
If you love to live in a place with countryside vibes, then Jericho is a perfect city for you to move to. It has also been gifted with Vermont's highest mountain Mount Mansfield. It is a safe, clean, and friendly place filled with folks that manage to be family-oriented. Top public schools serving the Jericho area include Mt. Mansfield Union High School, Camels Hump Middle School (CHMS), Browns River Middle School, Jericho Elementary School, and Underhill ID School.
Quality of Higher Education Institutes in Vermont
Vermont is home to some of the most reliable K–12 schools and colleges in the country. Several prestigious universities are also found here, particularly in Burlington and Middlebury. The prominent ones are:
Middlebury College
University of Vermont
St. Michael's College
Champlain College
Norwich University
Bennington College
Job Opportunities in Vermont
Vermont is a promising state for several professionals. Some of the highest paid jobs sectors are:
Manufacturing
Software Development
Financial Services & Insurance
Renewable Energy & Green Businesses
Food, Beverage & Consumer Goods
Tourism & Outdoor Recreation
Education
Healthcare
Professional & Creative Services
Taxes Scenario in Vermont
Vermont's average property tax rate is 1.86%, which classifies as the fifth-highest rate in the U.S. The sales tax in Vermont is 6% which is combined with local taxes. The state also has a growing state income tax that is 3.55-9.4%.
Ready to Move to Vermont?
With pristine natural areas and parks, Vermont is certainly a great place to call it home, but before you make your final decisions, here are a few state facts that you should be aware of before moving here.
Unforgiving Winters
Snow gets so silly here that occasionally inhabitants even need to burrow their rooftops! When the snow all melts away, winter white changes into a spring season.
The More Significant Expense of Living
Accompanying with high assessments, the payment of food, warming (particularly during long winters), and other everyday costs are higher than the public normal.
Absence of New Turn of Events
Many neighborhood residents face explicit changes, which has tragically prompted a lack of open positions and broadened ventures.
High Lease
As we noted in the 'geniuses' area, lodging costs can be very sensible. Then again, the lease can be outstandingly expensive because of a poor record of investment properties.
Mud Season
Once winter comes to an end, the ground gets phenomenally wet and becomes muddy from melting snow and rains. However, this season does have its own distinct smell, which is fresh and crispy clean.
There is no doubt that Vermont has a lot to offer to those hoping to move to this state. From charming towns to Mount Mansfield, it's an excellent place for nature lovers. With phenomenal health services and informative structures, a stable economy, and some great high schools and Universities, Vermont is a fantastic place to move, if you plan to live a healthy and slow-paced life. And as for your move, whether you want
full-service movers
or simply require someone to drive your belongings, Moversfolder.com can help you get instant
free moving quotes online
for all your moving and storage needs.