The Ultimate Moving Guide to Texas
Introduction to Texas,
Texas is the south central state and, in fact, the largest state in the south of the USA. The state has diverse geography with its own share of canyons, deserts, forests, and yes, the Rio Grande River. The river is along the border of Texas and Mexico. Texas used to be an independent state once but now a part of the Union. Spanish influence is marked in Texas life. Among the major cities, include Austin (the capital city), Dallas, San Antonio, and El Paso.
Why Move to Texas with Moversfolder.com?
Texas moving is a big change in life. Why take chances? Relying on Moversfolder.com for picking your movers and getting authentic information and updates will be worth it. Here are some more benefits of using this exclusive online portal:
Exhaustive list of moving companies is available on the portal to choose from without the need for haggling on prices.
Moversfolder.com instantly mails you three to five moving companies with details who approach you.
Specific service providing companies and specialty movers are available easily.
All the professional moving companies are reputed and licensed to move to Texas or any of your choicest destinations.
The user- friendly portal is simple and free with dedicated sections on local movers, long distance movers, office movers and international movers.
You can compare free moving quotes from cheap moving companies for ensuring cost-efficient moves.
You get to save around 40% of your moving costs.
Reasons to Move to Texas
Affordable in Comparison to Many Places
The cities of Texas are comparatively less expensive than major US cities like Los Angeles, New York and San Francisco.
Rising Job Graph in Oil and Gas Industry
Texas has seen a remarkable boom in the oil and gas industry. San Antonio owes its population increase much to this fact. Many renowned companies have set up their bases around Texas cities.
A Good Place to Raise a Family
San Antonio in Texas is known to be a family-friendly state. There is a cordial atmosphere and some nice places for children to enjoy. Austin is another place in Texas where a good family life is adorable.
Not Much Tax Burden
There is no personal state tax income tax in Texas. This is yet another reason to move to the state.
Driver's License and Vehicle Registration in Texas
Please note that a driver's license in Texas is valid for eight years for eighteen plus residents. The Texas Department of Public Safety issues the driver's licenses with offices throughout the state. You need to get an appointment to avail the services.
For details and latest updates, one is recommended to see Texas Driver's Handbook. Some basic documents required for the driver's license are:
A proof of US residency
A proof that you are a Texas resident
Identity proof
SSN (social security number)
Insurance of vehicle
Those moving to Texas from other states and holding a valid driver's license from his/her previous state should go to the New Texas Residents page. Under age (below 18 years), applicants should visit Teen Drivers page for the guidelines, process and additional requirements.
Foreign students and temporary visitors need to follow the instructions available on the US Citizenship or Lawful Presence Requirement page.
For registration of your vehicle in Texas, you require auto insurance for which a driver's license is must. An out of state driver's license is valid to insure and register your vehicle in Texas. Please note that you are allowed 30 days to get your vehicle registered in Texas. You need to visit your local county tax-assessor collector office to obtain your vehicle registration sticker and license plates. The documents required are:
Insurance card
Proof of inspection
Proof of ownership
Registration or title from the previous state
Affordable Cost of Living in Texas
Living in Texas is affordable in comparison to many places.  The cities of Texas are comparatively less expensive than major US cities like Los Angeles, New York and San Francisco. Since there are no state income taxes, the costs come down obviously. It is easy to own or rent a home that costs less than the national average.
The cost of living index in Texas is 93.9. The median home price of the state is tagged slightly below $200,000.Texas is the 19th least expensive state as far as living costs are considered. Housing, insurance and transportation are more affordable in Texas than other places. Texas is also considered favourable for renters. You can rent a studio for around $700, one bedroom for nearly $800, and two bedrooms for around $1000.
A quick view of the affordability index in some important cities of Texas is described in the section on best places to move to in Texas below.
Coolest Attractions in Texas
There are several museums and scenic attractions in Texas. The Lone Star state has some amazing desserts, forests, canyons, and cave systems. People throng to Texas for various reasons. Here are a few examples of some star attractions.
Big Bend National Park
NASA Space Center
Padre Island
San Antonio RiverWalk
Alamo Mission
Weather and Natural Disasters in Texas
Weather in Texas is temperate at most locations. The average temperature is 60˚F to 70˚F. The evenings at some locations can be somewhat windy but nights are often pleasant. Summers tend to be dry, hot and humid in most of Texas but spring and autumn are quite comfortable. Spring gets some rain. The fall season is amazing. The winters are cold and snowy. January is the coldest month. Texas gets its share of floods, hurricanes, tornadoes, hailstorms, wildfires, earthquakes, and erosion.
What are the Best Places to Move to in Texas?
Texas has been a good destination for all. Whether you are  an enthusiastic youngster searching for a job, a family person looking for a safe neighborhood, or an outdoor enthusiast fond of trekking or adventures, Texas has it all.
Austin
Young professionals love the city. Though slightly on the expensive side when compared with the national average, Austin is still cheaper than many US cities. The median home price is nearly $3, 80,000.
El Paso
El Paso is located in the west of Texas. The city has mesmerizing walking trails, is stunningly beautiful, and is known for El Paso Mission Trail. Despite many pros, El Paso is still affordable with a median home price just around $155,000.
Dallas
The modern city of Dallas has a cost of living and home prices (median home price around $3, 50,000) lower than the national average. The Big D is ideal for new movers.
Coppell
Coppell is a suburb with a strong community feel. There are some good schools, amenities, and easy commuting to Dallas, but the median home price is nearly $4,40,000.
Houston
Known for barbeques, and good health facilities, Houston is affordable and a good place for family life. The cost of living is below national average. The median home price is about $280,000 only.
San Antonio
San Antonio has historical importance and offers some nice food options. San Antonio is also known for stunning architectural marvels. Young professionals find the city adorable. The median home price is near $2, 10,000.
Quality of Higher Education Institutes in Texas
The higher education system in Texas comprises 268 colleges and universities in the state. The eminent higher education centers in the state are:
Rice University, Houston
University of Texas, Austin
Trinity University, San Antonio
Saint Mary's University, San Antonio
Southern Methodist University, Dallas
Job Opportunities in Texas
Toyota headquarters has significantly contributed to job growth in Texas. Those having a career in the following industries can hope for good job prospects:
Petroleum and natural gas
Agriculture
Steel
Banking
Tourism
Besides, the following jobs are in demand:
Occupational Therapy Assistant
Physical Therapy Assistant
Wind Turbine Technician
Nurses practitioners
Medical diagnostic sonographer
State Income Tax Policy in Texas
One of the best things about Texas is that there is no personal income tax. Instead of levying income taxes, the state of Texas depends hugely on high sales that may go as high as 8.25%. There are taxes on businesses and specific industries.  
Texas can be said to be quite tax-friendly. The World Population Review states that the overall state and local tax burden is at 33rd place among all states as of 2020.
There is also levied a franchise tax of 0.475% on certain wholesalers and retail businesses.
The property tax in Texas is also on the higher side. However, there are some exemptions available in property tax:
a) The Homestead exemption
b) Exemptions for seniors and the disabled
c) Exemption for disabled veterans
Ready to Move to Texas?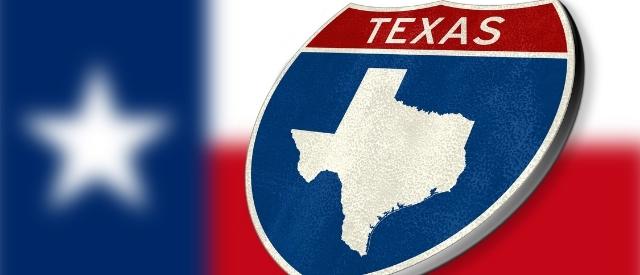 Texas is pleased to welcome new movers. People are generally considered honest and warm – hearted, and humble. As you pack your bags for
moving to Texas
, the following additional information might help you.
Texas is a quirky place. You may find some laws strange. For example, it is illegal to sell your eye, you cannot milk somebody else's cow, you cannot let a camel run loose on Galveston beaches, etc.
People coming into Texas usually love to stay here for life.
There is more than 70,000 miles of highway.
The speed limit is the highest in the country at 85 miles per hour.
Texas is the birthplace of hamburgers.