Ultimate Moving Guide to Seattle - WA
Introduction to Seattle,
There are numerous reasons why one might think about moving to Seattle. From Elite schools, hot occupation markets, to unlimited freedom for outdoor life are only a flash of something larger at this Pacific Northwest diamond. Seattle has gained fame for being a windy city, which means the sky's the limit; we think moving to Seattle is an incredible idea! With this guide, you'll get familiar with the best places to live in Seattle, like The University District, Capitol Hill, West Seattle, and Queen Anne. This guide will give you an insider's perspective about daily living in Seattle and help you discover what makes the Emerald City so incredible.
Why Move to Seattle with Moversfolder.com?
Moversfolder.com is an online moving platform that can help you get customised moving company quotes from multiple moving companies near you within just a few clicks. These quotes are completely free and there is no obligation from your end. You can compare the quotes at your own time and choose only the one that best matches your needs and budget. With Moversfolder.com, get the work done in no time without any barriers!
And if you are worried about the movers' reputation, then you don't have anything to fret about. All the moving companies listed with us are pre-screened, licensed, and insured. Most of them are members of reputed moving organizations like
BBB
and AMSA. As soon as you fill out a simple moving requirement form, we will instantly email you a list of 3-5
cheap moving companies
that best match your needs.
Reasons to Move to Seattle
1. Various Job Opportunities
Seattle offers you many job opportunities as it has a flourishing job market. There are plenty of tech jobs openings here because this city is home to the world-famous tech giants like Microsoft and Amazon, along with several startups.
2. Fastest-Growing U.S. City
In the last 15 years, the population of Seattle increased by 100,000 people (560,000 residents in 2000, 660,000 citizens in 2020), and the growth is not slowing down. Many people move here for job opportunities and stay for the unique city vibe that you can't find anywhere else.
3. Summers are Amazing
Seattle is known as a rainy city, but Seattle's summers are itself a beauty to witness. In summers, the city experiences less humidity and people here indulge in all kinds of outdoor activities as it is the best time of the year.
4. Provides Myriad of Outdoor Activities
High summer temperatures with low humidity form the perfect blend for anyone who appreciates fun outdoor activities. So, if you love spending most of your free time outdoors, then you should seriously consider moving to Seattle, Washington. The greenery here is something to behold along with enjoying various activities such as hiking, cycling, mountain biking, kayaking, water skiing, and many more.
5. Seattle is Heaven for Beer Lovers
Seattle features more than 250 craft breweries – not a big surprise as nearly 80% of the country's hops are grown right in the Yakima Valley. This makes Seattle the perfect place to enjoy a pint of regional craft beer.
Seattle Driver's License and Registration
If you plan to move to Seattle, you need to assign your out-of-state driver's license as a legal obligation. You have a period of 30 days to obtain a driver's license after establishing your residency in the state.
A similar requirement is imposed for your out-of-the-state vehicle registration. After getting your driver's license, you need to register your vehicle. For registering, you need two things i) Your license plate number ii) Your VIN. After that, you will get issued new vehicle plates.
Cost of Living in Seattle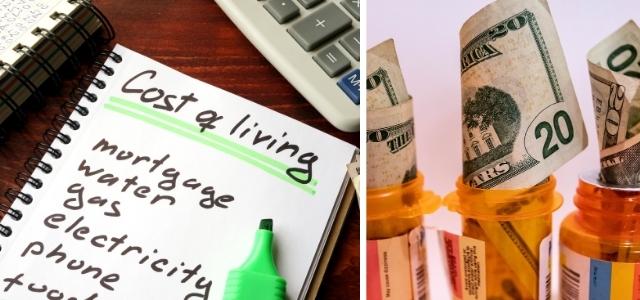 Living in Seattle is twice as costly as the United States' regular, making Seattle one of the more expensive urban areas. The highest cost is residence, regardless of whether you're leasing or buying a home. Transportation is likewise a massive expense for Seattleites, yet the high costs don't end there. Whether it is for food supplies and medical care, Seattle inhabitants pay more as compared to other Americans.
Coolest Attractions in Seattle
Seattle is known for its magnificent attractions, landmarks, and exciting places to explore. Some of them are:
a. The Pacific Science Center
This place gives a pleasant learning experience to the whole family by offering interstellar revelation at its planetarium, vivid computer-generated simulation undertakings, and an overwhelming IMAX experience.
b. The Museum of Flight
Located at Seattle's oldest airport, this museum is the world's largest independent air and space museum. Along with a walkthrough of the original Boeing airplane factory, this place offers flight simulators, interactive exhibits and plenty of fun activities for families.
c. Space Needle
Seattle's most conspicuous structure is this incredible Tower. You can view 360-degree indoor and outdoor panoramic views of downtown Seattle, Mount Rainier, Puget Sound, the Cascades and the Olympic mountain range from this 520' saucer-shaped "top house".
d. Seattle Great Wheel
Love Ferris wheel rides? Then you will surely appreciate one of the biggest Ferris wheels in the US.  With enclosed gondolas, the Seattle Great Wheel offers spectacular coastal views.
e. Seattle's Pike Place Market
The city's most visited fascination which draws individuals worldwide is this amazing place. You'll see the well-known fish showcases, an abundance of tasty cafés, and the Gum Wall. Be a part of Seattle and add your piece of gum to the weird and brilliant work of fine public art.
f. Queen Anne's Kerry Park
With unsurpassed views of Elliott Bay, downtown, and the Space Needle, you're in for a sight you will never tire of from this small public park.
Weather and Natural Disasters in Seattle
Seattle is world-famous for its dusk skies and frequent rain with a temperature of about 34-degrees yearly. Rain often falls in the form of a light mist, so dealing with heavy downpours isn't a daily occurrence. Autumns and winters are wet and chilly, although rarely freezing. You can also experience white snow once or twice a year.
The state fears natural disasters like earthquakes, and the city is close to five active volcanoes. Before buying a house in Seattle, check the flood map carefully.
What are the Best Places to Move in Seattle?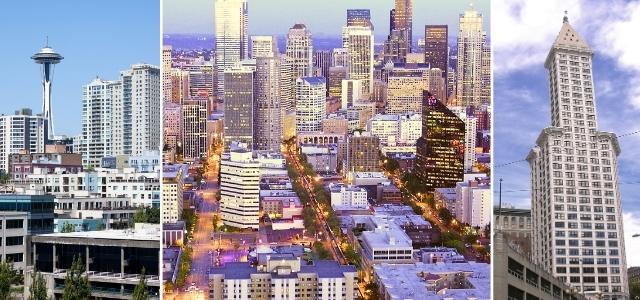 The University District
This area is the place where the understudies come to make the most of every opportunity. The University District contains a few instructively engaged networks, including University Park, Greek Row, University Heights, and the Brooklyn Addition.
Capitol Hill
A thickly populated neighbourhood in the city's focal point, Capitol Hill, is about hustling with eateries, laid-back coffee shops, hip bars, gay clubs and indie stores. For a casual summer evening, go for a stroll around Volunteer Park and absorb the daylight. Look at the sculpture of Jimi Hendrix at the edge of Broadway and E Pine Street. Catch a film at the Egyptian Theater. The chances are unending! The district also offers some excellent high schools and universities.
West Seattle
A city away from the city, West Seattle, is practically isolated from the remainder of Seattle by the Duwamish River. Additionally, West Seattle is the doorway to places like Vashon Island — only a snappy ship ride away. West Seattle highlights a bounty of excellent stops and seashore-loaded waterfront. State-funded schools and universities are first class in this locale.
Queen Anne
Queen Anne area is overflowing with better things throughout everyday life. This well-off cut suburb is home to probably the best views in the city. Occupants love the delightful parks, arranged nurseries, and verifiable tourist spots that embellish the territory.
The social schedule in Queen Anne is always full of live auditorium shows, rancher business sectors, and the continually inviting Seattle Center right outside your front entryway.
Quality of Higher Education Institutes in Seattle
Seattle is home to some of the most reliable K–12 schools and universities in the country. The prominent ones are:
University of Washington
Antioch University
Argosy University
Bastyr University
Northeastern University
Seattle Pacific University
Job Opportunities in Seattle
Seattle is a promising state for several professionals as the tech market is flourishing here. Some of the highest paid jobs are:
Engineering
Higher Education
Healthcare
Tech
Tourism
Marketing
Taxes Scenario in Seattle
Seattle's local charge rate is .99%, a rate higher than most of the state, however below the public normal of 1.19%. The Emerald City's inhabitants pay a stunning premium for sales tax with a consolidated sales tax of 10.1%. While that is a troublesome number to swallow, you can praise how Washington doesn't demand a state income tax.
Ready to Move to Seattle?
Love Seattle so far? Well before you make a decision, here are a few pointers that will help you make a sound decision regarding your move.
The cost of living is considerably higher than in most cities.
It rains and gets dark a lot.
The state occasionally experiences earthquakes.
You will have to tolerate heavy traffic clogging.
If you are a sports lover, then it will be sad news that pro sports teams are on a losing streak.
In Seattle, winter is long and very grey.
Seattle is a great place to call home. So, if you are all set to move, then begin searching for the best moving service providers for
professional moving company quotes
with the help of Moversfolder.com. With savings up to 40% and ensured reliability of
hiring movers
, the right choice is easy to make. With a stress-free move, you can settle down easily in Seattle and experience this fantastic city.
Happy Moving!