The Ultimate Moving Guide to Pennsylvania
Introduction to Pennsylvania,
Pennsylvania is a Mid-Atlantic and Northeastern region of the United States. The state is commonly known for its beautiful landscapes, rich history, food, and chocolates. There are countless huge mountains loaded with hardwood trees covering the more significant part of Pennsylvania's scene. The state has many things to offer, from some of the country's best education systems to enjoying arguably the best cheese-steak in the world. The state of Pennsylvania welcomes with an open heart.
The most preferred cities in Pennsylvania include Philadelphia, Bellefonte, Collegeville, and Bucks County. The population of this state is around 12 Million. This densely populated Pennsylvania state brings tourists and emigrants throughout the year.
Why Move to Pennsylvania with Moversfolder.com?
Moversfolder.com is an online platform with a considerable database of trustworthy moving companies that are licensed, insured and are fit to move you to Pennsylvania. Almost all the moving companies listed are pre-screened, which ensures that only the most trusted companies will bid for your move.
Start your Move with Moversfolder.com and is completely and safe for a smooth and hassle moving experience. There is just a one-minute form that you are required to fill. Punch in some necessary details about your move, like, date of move, zip codes of locations and budget, etc., and then you are done. With just a few clicks, you will
get free moving quotes
from multiple
professional movers
right in your inbox. Moversfolder.com further ensures that you get an optimized solution and the best deals for your move, further educate yourself with the help of our expert's
moving tips and guides
that helps you save on your moving costs.
Reasons to Move to Pennsylvania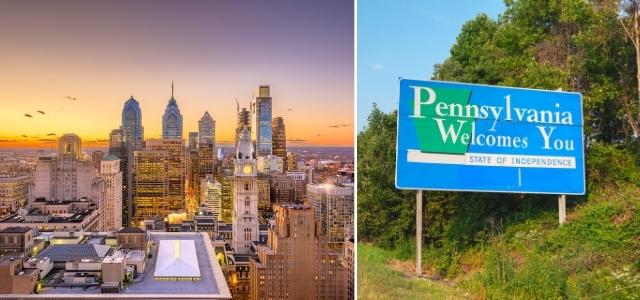 The following are a few reasons that you should consider before moving to Pennsylvania.
1) Land of Job Opportunities
Pennsylvania is home to 500 companies created on a solid establishment of significant companies and established industries. Along with that plenty of startups and entrepreneurs are also flourishing here.
2) Extremely Affordable
There are many places to live in P.A. affordably, like Bethlehem, which is also a place of many opportunities. Even significant cities like Pittsburgh and Philadelphia offer significantly lower living costs than other East Coast metros.
3) Perfect Place to Grow your Career
In case you're searching for top schools and colleges, Pennsylvania is the spot to be. One of every eight Pennsylvanians would like to get into Penn State or PSU. On the other hand, there's renowned Carnegie Mellon, the University of Pennsylvania, the University of Pittsburgh, and Temple University.
4) Stunning Landscapes and Views
A gem of a small town, Cherry Springs State Park flaunts some of America's darkest skies. People witness various meteor showers here, and some skywatchers love to camp here overnight.
5) Place of National Treasure
Placed in the steeple, across the street from Independence Hall, the Liberty bell is placed in Independence National Historical Park, located in Philadelphia, Pennsylvania. Independence Hall which is a UNESCO World Heritage Site is where both the Declaration of Independence and the United States Constitution can be found.
6) Land of Chocolates
Pennsylvania's most famous exports are Hershey's chocolate, and a visit to Hershey's chocolates world is a must-do activity on the weekends.
7) Plenty of Outdoor Fun
Pennsylvania has countless golf courses, parks, forests, rivers, farmland, covered bridges, and mountains for active adults who seek endless recreation opportunities. The state also has several popular sports teams.
Pennsylvania Driver's License and Registration
If you plan to move to Pennsylvania then you need to assign your out-of-state driver's license as a legal requirement. The period provided is 60 days after you establish residency in the state.
A similar requirement is required for your out-of-the-state vehicle registration. You must apply for the re-registration of your vehicle in Pennsylvania within 20 days of moving to the state. The vehicle undergoes a compulsory examination. After that, you will receive a driver's license and vehicle registration documents.
The Cost of Living in Pennsylvania
The average home cost in the U.S.. is $189,400, but in Pennsylvania, it's $155,500. It is a great place to move to because of its affordability. If you are thinking of moving to Pennsylvania after retirement, there's no better place than this.
Coolest Attractions in Pennsylvania
The state of Pennsylvania has an abundance of attractions, landmarks, and exciting places to explore. Some of them are:
Ringing Rocks Park:
Why go to just any park when you could go to one that has mysterious rocks that ring like bells when you hit them? Interesting right?
Trundle Manor House Of Oddities:
This house will take you on a tour of antique medical devices, weaponry, animal skills, and their famous speciality, "Dead Things In Jars."
The Dream Garden:
The Dream Garden is the garden that has the largest glass mural in the United States!
Randyland:
Take a walk through the twisting colors of trippy art and incredible creative visuals that will make you think that you're in an entirely different world that you could only experience in your dreams!
Penn's Cave:
It's a water-based cave with a lot of historical mystery! Jump on that small boat and glide into the deep world of seducing colors, culture, and mystery!
Along with all these incredible places to visit in Pennsylvania, the state also offers The Robot Hall Of Fame, The Fountain Of Youth, The Weeping Glass, The Living Dead Museum, Rosenbach Free Library, Hershey Park, and many other such cool places.
Weather and Natural Disasters in Pennsylvania
The climate of Pennsylvania ranges from colder winters to cooler summers. Most of the state experiences four seasons. It has a normal temperature scale from a high of 83 degrees in summer to the lowest of 19 degrees during winter. The state sees an average of about 40 inches of snowfall and 44 inches of rain.
The state, however, is not free from natural disasters like thunderstorms, floods, tornadoes, etc.
What are the Best Places to Move to in Pennsylvania?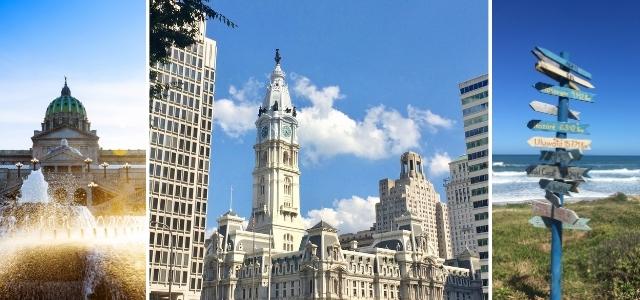 Philadelphia
Philadelphia is perhaps the most famous city in the whole state. However, there are numerous reasons other than sheer reputation that make this city a genuine competitor on the rundown of spots to move.
It is possibly the most economical area also! It's otherwise called the "city of brotherly love," and the crowning jewel of Eastern Pennsylvania. It has top-class neighbourhoods with the University of Pennsylvania, The Curtis Institute of Music.
Bellefonte
Bellefonte has attained one of the top spots to live in P.A. for two reasons. The first reason is that Bellefonte is a small yet affectionate town and it blossoms with their modest community occasions and get-togethers.
The second is that the town has an unusual recognition for private companies and shops, which frequently pulls newcomers to this comfortable little spot!
Collegeville
Despite the name, Collegeville isn't situated almost as an enormous school or college.  This city is known for its top-of-the-line schooling structures and a protected climate with a low crime percentage. A great spot to discover work along with a lively university environment makes this city perfect for students and families.
Bucks County
Bucks County has included various quiet towns and districts. Individuals in the region are neighbourly and affectionate. It is a great area to begin and raise a family and to find unique kinds of spots like old book shops, parks, or refined little shops! As an attached perk for those with kids, the county is also known for its excellent educational systems.
Quality Higher Education Institutes in Pennsylvania
Pennsylvania is home to some of the most reliable K–12 schools and colleges in the country. Several prestigious universities can be found here, particularly in Pittsburgh and Philadelphia. The prominent ones are:
University of Pennsylvania
Carnegie Mellon University
Villanova University
Lehigh University
Swarthmore College
Pennsylvania State University
Job Opportunities in Pennsylvania
Pennsylvania is an encouraging state for several professionals. Some of the highest paid jobs are:
Gynaecologist
Psychiatrists
Chief Executives
Oral Surgeons
General Practitioners
Internists
Physicians
Nurse Anesthetists
Paediatricians
Financial Managers
Taxes Scenario in Pennsylvania
Though many goods are taxed in Pennsylvania, items that are not subject to sales tax include food, clothing, amusement parks, parking lots, and even tattoo services. In addition to federal taxes, Pennsylvania has two additional taxes that most other states do not have:
Local wage taxes
Service taxes
Ready to Move to Pennsylvania?
Made your decision to
move to Pennsylvania
? Before going ahead, please go through the following factors. These factors listed below are not the 'cons,' nor do we mean to say that these points are shady or in any way, conclude that Pennsylvania is inappropriate for a living but acknowledge that Pennsylvania potential, but to make sure you are making an informed decision.
Snow:
Whether you Dislike it or love it, be prepared for freezing winters with plenty of snowfall. Weather can also vary fiercely, like, you might feel one sunny day and the next is cold and snowy.
Property taxes:
Coming in at #12 in the nation, Pennsylvania's effective property tax rate is relatively high. Public education funding is also expensive.
Traffic: Due to its proximity to Washington DC and New York City, parts of the state can experience miserable traffic jams daily.
Finding a job:
Those moving here without a job lined up might be in for a shock. If you don't have a lot of experience in your field, it may take some time to find employment.
There's no doubt that Pennsylvania brings a lot to the table for those who are hoping to move. From 11 great mountain ranges to the lively way of city life, Pennsylvania has everything. Phenomenal medical services, informative structures, a stable economy, and a lot of freedom to plant down roots are only a couple of the reasons why Pennsylvania is a charming place to move to. Plan your move to Pennsylvania with Moversfolder.com and enjoy the services of the best local or
long distance moving companies
who make sure your move is completely stress-free and hassle-free.