The Ultimate Moving Guide to Montana
Introduction to Montana,
Montana, the Big Sky Country, with amazing landscapes, rural areas and rugged open places is nothing less than amazing. Montana is home to majestic mountains, hills, beautiful valleys and plains. Apart from natural beauty, this state has much more to offer. Locals of Montana experience many benefits for residents in the state, such as no sales tax, numerous recreational activities and low population. Many things make Montana the best place to live in, to begin with, this state is well known as the Treasure state of the US and is the fourth largest state of the country with an area of 147.042 miles. Keep reading to learn more about this marvellous state.
Why Move to Montana with Moversfolder.com?
Moversfolder.com is a perfect online platform that can help you in connecting with the best moving companies near you. Not only that, but you can also obtain no obligation free moving company quotes from different moving companies and then compare them to ensure that you hire only the best moving company to handle your move to Montana.
Regardless of distance, you can obtain free
long distance moving quotes
or
local moving quotes
with the help of Moversfolder.com. All moving companies associated with Moversfolder.com are pre-vetted, licensed and insured.
We At Moversfolder.com, understand that moving is complicated, so we made sure that finding the best mover is an easy process. The process of finding the moving companies who can handle your move and are available on your chosen dates is extremely simple. All you need to do is fill an online form with your basic details like distance of your move, date of your move and moving size etc. and you will
get mover quotes
within a few minutes.
Reasons to Live in Montana
Less Rental Prices
Only two-third of the Montana Population are homeowners, relatively the rental costs are cheaper here as compared to other states.
No Sales Tax
The beauty of living in Montana is that there is no sales tax here, which means you can easily shop all you want without paying any tax on it.  Only a few states of the US have no sales tax policy and Montana is one of them.
Lovely Outdoors
Montana is a state with natural beauty. All outdoor enthusiasts will love this paradise, it is a state where you can enjoy hiking, camping, fishing, well, this list is endless.
Low Population
While states like New York, California struggle with traffic, Montana experiences no congestion. This state is well known for no traffic gridlocks due to its low population density.
Great Education
You can plan your children's future in Montana, as it is home to the most popular Montana University that offers a great education. This is a university for wildlife and agricultural studies.
Winter Sports
Montana is home to the best world-class ski resorts. The state offers the best skiing experience in the world.
Friendly Folks
Montana's locals are friendly and they welcome new residents with a warm gesture.
Montana's Driver License and Registration
After
moving to Montana
, you will have 60 days to get a driving license. There are a few steps that you need to follow to get a driver's license. Here's how you can get it,
Move and start living in Montana
Get an appointment and Visit a Driver's license office in the state.
You need to provide your documents like ID and proof of residence in Montana
Deposit the application fees
Next, you have to pass the vision test
And then you will receive a temporary driving licence. Within a few weeks, you will get an original copy of your driving license.
Vehicle Registration Process
For registration of your vehicle, you have 60 days. It is important to show your vehicle's insurance and lien information to the County Treasurer office. Then pay your registration fees and your vehicle will be registered and you will get a license plate for your vehicle.
Cost of living in Montana
Living in Montana is higher than living in any other US state. The cost of living index in this state is 102 which is above the national average of 100.
Major Attractions in Montana
Montana is a big sky country, famous for its recreational activities and natural splendour. Here are some popular attractions of Montana.
1 - Glacier National Park:
It is the most popular destination in Montana, with one million acre size. Glacier National park is the best place for nature lovers.
2 - Flathead Lake:
It is the largest lake in the Eastern area of the US. Flathead lake is 185 miles of blue shorelines.
3 - The Museum of Rockies:
It is a great planetarium. So if you love museums, then this is a place to visit for sure. You will witness the nation's largest dinosaur's collection in this museum.
4 - Big Sky Resort:
Montana is a famous state for winter sports, and this resort is a perfect place for snowboarders and skiers. It has 4350 feet of terrain.
5 - Giant Springs State Park:
It is well located in Great Falls, a 4650-acre park with 20 and more miles of hiking trails, biking, fishing and more.
6 - Ptarmigan Tunnel:
It is a 200-foot long tunnel, which was cut through mountain sides for horses in the 1930s.
Weather and Natural Disasters in Montana
Montana experiences varied climate situations, due to its change in altitude and geography. The state is divided into two parts, Eastern and Western Montana, while there are two distinct zones, one with Coastal climate and the other with Continental Climate
The Eastern area of Montana is full of plains, hills and isolated mountains, so this region experiences a continental climate, with warm summers and colder winters.
Western Montana has many mountains and large valleys and thus experiences cooler summers and milder winters.
As for Natural Disasters, Montana is known as the safest place from natural disasters. However, there are some threats of winter storms, hurricanes, flooding and more.
Best Places to Live in Montana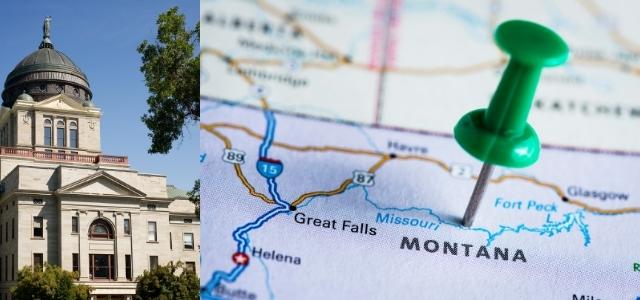 Bozeman
This city is a number one place to live in Montana, with its perfect picturesque of rocky mountains. For the youngster, it is a perfect place with a combo of college town and outdoor place. The city is famous among tourists too due to many recreational activities, like hiking, rafting and rock climbing. Bozeman city comprises a strong economy, delicious food and free transportation.
Four Corners
This city is a perfect place to raise your family. Most of the residents in Four corners are homeowners, and public schools here are among the best schools in the state. It has a cozy community, but you will not find diversity in this place, just like Bozeman, there are more whites residing in this suburb.
Helena
Helena is the fourth largest place to live in the state, well situated in Lewis and Clark's County. It is the capital city of Montana and half of the residents here are homeowners. The public schools here are above average. This city is great for young professionals, as it has a strong economy and great business growth.
Missoula
It is a pretty city, located in the region of Western Montana. Missoula is nestled in the Rockies. It is often distinguished as a cultural and outdoorsy city. If you are a coffee lover, then you will fall in love with this place as it is home to coffee. The top college here is the University of Montana.
White Fish
Located in Flathead county, well known as a tourist destination, White Fish is the most friendly place to live in Montana. If you are choosing this city to raise your children, then it is an ideal place as it has many top-ranked schools. In fact, Whitefish is considered the hidden gem of Montana.
Billings
Billings is the largest city in the eastern area of Montana. It is a healthcare area near South and North Dakota. The city comes with an affordable cost of living, with remarkable natural outdoors.
Lewistown
It is situated in Fergus county and is the best place for families, young professionals and retirees. The cost of living here is very low as compared to other parts of the state. If you want to buy your own home in Montana, nothing is better than buying it in Lewistown, since real estate prices are quite lower here. It has many public schools and private academies too.
Glasgow
Named after a Scotland city, Glasgow is the best place for retirees. This city is located in the middle of the state and is a place with beautiful houses and high paid salaries. Recently, Glasgow was under the category of the best places to live in the US.
Quality of Higher Education in Montana

Montana ranks 24th among the US states for the best schools in the nation. It is home to many reputed colleges and universities. As this Big Sky country has huge agricultural lands, all universities provide wildlife and agricultural programs. Here are some of the top colleges of Montana:
Montana State University
University of Montana
Carroll College
University of Providence
Rocky Mountain College
Montana Technological University
Saalish Kootenai College
Job Opportunities in Montana
Some of the high paid industries in Montana are:
Agriculture
Healthcare
Retail
Professional services
Manufacturing
Construction
Education
Hospitality
Government
Taxes Scenario in Montana
There is no sales tax in the state. The property tax in Montana is 0.84% and income tax is between 1-6.9%.
Ready to Move to Montana?
So far we have seen how marvellous Montana is. But, while every state has positive points, there are a few negatives too. Here are a few cons of Montana which will make sure you are completely informed about every aspect of living in Montana.
Lack of public transportation
Montana has challenging weather sometimes
The state comes with great danger of wildlife animals
There are some weird laws of the state
Still love Montana? The pros certainly overcome the cons. So, if you are planning to move to Montana, don't wait anymore. Plan your move with Moversfolder.com and ensure a safe, secure and hassle-free move. Happy Moving!