The Ultimate Moving Guide to Colorado
Introduction to Colorado:
Well known as Switzerland of America, Colorado is the perfect state to move to for those who want to live in a relaxed state that offers plenty of outdoor activities like hiking, biking and not to miss skiing. This state is a combination of every aspect that people look for in a state, such as mountains, deserts, and landscapes of river canyons. It is home to the largest park system in the nation, the Centennial State.
Before heading to Colorado, it is important to gather important knowledge about the state along with a few vital facts that you must be aware of. With this guide, get comprehensive data about Colorado that will help you to have inklings about the benefits and drawbacks of living in the state.
Why Move to Colorado with Moversfolder.com?
Moversfolder.com is an online platform that connects you with licensed and insured moving companies from all over the United States. No matter whether you are
hiring for local move
or
moving out of state
, Moversfolder.com can help you to gather instant free moving quotes from several
cheap movers
and allows you to hire the best as per your needs and budget.
Moving to Colorado can be extremely simple now, with the help of professional movers, all you have to do is fill a simple online form with your basic details like distance of your move, date of your move and your moving size, and you can get no-obligation, free moving company quotes from different movers right in your inbox. You can then compare and choose the best moving quote and go for the reliable and most suited moving company for your move.
Reasons to Move to Colorado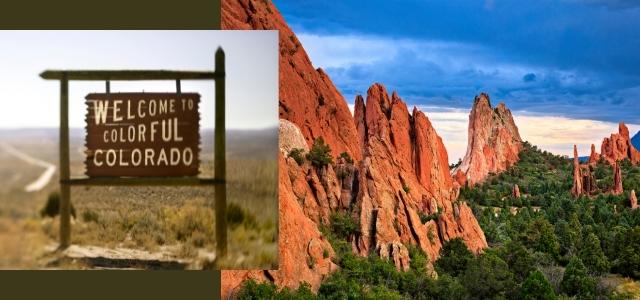 Outdoor Activities:
If you are Outdoor enthusiasts, then this state is best for you. Starting from winter skiing to summer hiking, you will get various outdoor activities options here.
Great Health Care:
Colorado is one among the top ten states in regards to medical care. The state is home to the best health care centres in the country. And the quality of healthcare is above all states of the nation.
Low Tax Rate:
In many states of the US, the tax rate is relatively high but the best part of Colorado is low income and property tax rates.
Strong Economy:
Colorado is a diverse state when it comes to industries. It is a business-friendly state.
Low Unemployment Rate:
The unemployment rate in Colorado is lower than the nation's average. There are many job opportunities in the state offered by a diverse range of industries.
Colorado Driving License and Registration Process
Once you have moved to Colorado, it is important to get a new driving license after you establish a state residency. Your out of state license is good enough for a while but not for the long term. Once you have applied for the residency, you can easily obtain a driver's license within 30 days. The advantage of this state is, in case you have an out of state license, then there is no requirement of any written test or vision test to get a license. You can easily fill a form of DMV online, and make an appointment and head to the DMV office. Make sure you show your identity proof and a social security number before you pay an application fee to get a state's driving license.
Vehicle Registration
You need a state's residency to register your vehicle within 90 days. You have to present the proof of your vehicle's insurance along with payment and registration fee to complete the vehicle registration process.
What is the Average Cost of Living in Colorado?
Along with a healthy lifestyle and great outdoor adventure, this state comes with an expensive cost of living. When we talk about transportation, grocery and housing, the state is relatively expensive. But on the other hand, the state's cost of living is lower than in other states like California, New York and more. However, the household income in Colorado is 13% above the country's median, which allows people to pay their rent easily.
What are the Best Places to Visit in Colorado?
There are boundless things to do in Colorado. The state offers year-round activities and many places to visit. Although the list is expensive, there are still a few places that you cannot afford to miss. Here are the top few recommendations of things to do in Colorado.
Red Rocks Amphitheatre
Denver is a popular city in Colorado, and this Red Rocks Amphitheatre is located just 15 miles outside the city. It is a naturally formed amphitheatre, used by the Ute Tribe ages ago. In today's time, its rock formation is among the best tourist places in Colorado with acoustics for live music.
Mesa Verde National Park
This is a beautiful park and a perfect place for nature lovers and photographers. Mesa Verde National Park has preserved ancient Pueblon cliff dwellings. If you are a history buff, it is a must-visit place for you.
Colorado Trail
If you love lacing up your shoes and going for long walks and hiking, the Colorado trail is an ideal place for you. It spans over 500 miles of the state and the trail crosses the rocky mountains and offers awe-struck views and landscapes.
Vail
Vail is a postcard-worthy area that all who are moving to Colorado must experience. This is the best ski resort in the country.
Weather and Natural Disasters in Colorado
This state experiences snow all year round, but it also experiences a humid climate. Colorado Weather varies from region to region, changing from semi-arid to alpine climate. The plain areas have little rainfall with humid temperature while the elevated area experiences colder temperature and more precipitation.
Colorado is the safest state to live in as no natural disaster takes place here. There are no chances of ocean-related disasters like storms, hurricanes and more.
The Best Cities to Move to in Colorado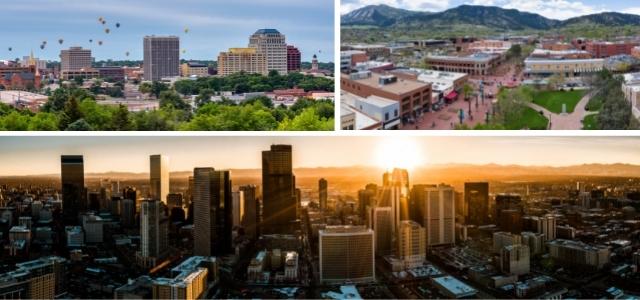 There are many wonderful cities in this state where you can choose to settle down. Here are the best ones.
Denver
Denver is the capital city of Colorado, and has been the fastest growing city in the US since 2010. While the population here is rapidly increasing every year, this city has a strong economy, which is why it is among the most popular cities in the US. If you are looking to live in a fast-paced and relaxed city, then
Moving to Denver
could be an ideal place.  It is located between rocky mountains and plains, which presents great opportunities for outdoor recreations like traversing to keystone or visiting numerous other mountain destinations.
Colorado Springs
It is home to the Air Force Academy of the United States. The city's economy is run by military and high tech industries. Colorado Springs is also a popular tourist destination in the US, due to its location. It is well located at the base of Pikes Peak and rocky mountains. The city is well situated at an elevation of 6000 feet, so think twice before
moving to Colorado Springs
, as the temperature is lower than any other city of the state. The housing cost here is below the average rate of the state. You will pay half as what you will pay for a house in Denver.
Boulder
Located on the northern side of Denver, this city gets a high ranking in terms of arts, health and education, however, it comes with a high cost of living. The living index in Boulder is 65% higher than Denver and Colorado Springs. Many residents say the city is worth its cost of living, as it has many benefits. The city will amaze you by its 300 sunny days, the premium Pearl Street mall and not to miss, its booming economy which will give you the best of everything when you
move to Boulder
.
Fort Collins
The State's leading University, Colorado State University is well located in Fort Collins. Located in the northern region of Denver, this city experiences 300 days of sunshine. Most of the population in Fort Collins is the younger generation who enjoy a lovely backdrop with live music concerts and even frequent festivals that take place all around the year. The city is home to plenty of manufacturing and service-related business, which is attracting high tech companies to
move to Fort Collins
.  You can certainly enjoy the best-brewed beer here as the city has more than 20 breweries across the town.
Castle Rock
This place gives a small-town feel with its great charm and is an ideal place to live in Colorado. Castle Rock is a family-friendly place, with 400 acres of park and canyons. The living index in Castle Rock is lower than in Boulder but it is relatively higher than other cities and states of the US.
Lakewood
It is the 5th populous city of Colorado. The famous Red Rocks Amphitheater is situated in Lakewood. The theatre holds numerous music concerts and acts throughout the year. You can easily go to Denver from Lakewood, as there is a short drive between the two cities. The city has many above-average public schools and offers many diverse activities.
Louisville
It is the smallest city in Colorado, with a small population. The city has a low unemployment and crime rate, but the housing rate is a bit pricey. It is home to many high tech industries.
Parker
If you are looking for a perfect family-friendly suburb, then
moving to Parker
could be a perfect choice. It offers great education with above-average schools and universities. However, the cost of living in Parker is much higher than in other places in Colorado and even other cities in the US.
Quality of Higher Education in Colorado State
Colorado offers a higher education system in the US as it is home to 17 colleges, universities, and community colleges. Here are some of the best colleges in Colorado:
Regis University, Denver
Colorado Mesa University
Colorado College
The United States Air Force Academy
The University of Colorado
Job Opportunities in Colorado
Colorado's economy is diverse, as many industries work in the state starting from manufacturing to real estate. If you are looking for a job then there are many industries that offer plenty of job opportunities throughout the year. They include:
Manufacturing
Business
Legal Industry
Architecture and Engineering
Computer and Mathematics
State Taxes in Colorado
Property tax in Colorado is lower than in other states while the sales tax is higher than in other places.
Ready to Move to Colorado?
Now that you are aware of all the facts and benefits of
moving to Colorado
, it is also important to know the disadvantages of living in this state. The primary one is that the cost of living in this state is pretty high when compared to other states of the US. Also, with plenty of youngsters flocking here every year, this state has become overcrowded.
Still think Colorado is for you? Well, then moving to Colorado can seem like a daunting task, but if you can find the right moving company to move all your belongings safely and at a reasonable price, it can make the moving process a lot easier. Also make sure you read our expert
Moving tips and guides
to ensure you experience a hasslefree move.
Let Moversfolder.com help you find the best and
reliable moving company
for a smooth moving experience. Why spend more when you can get the
cheapest moving company quotes
from reputable moving companies with just a simple click.